Our Sebastopol, California Pond's 19th year - 2014
Kathy's Bigsnest Pond Blog/Diary
---
Winter 2014 (click any image to see it in expanded view and enlarged)

It was a cold winter and nearly all the plants froze back to their roots. Still, we are in a severe drought and our critters needed their baths and drinks.

January & February:

Even the winter 'dead' pond has a stark beauty. The red twigs behind me are the Red-twig Dogwood stems.
This plants adds a lot of interest to the winter pond and helps anchor the pond into the landscape.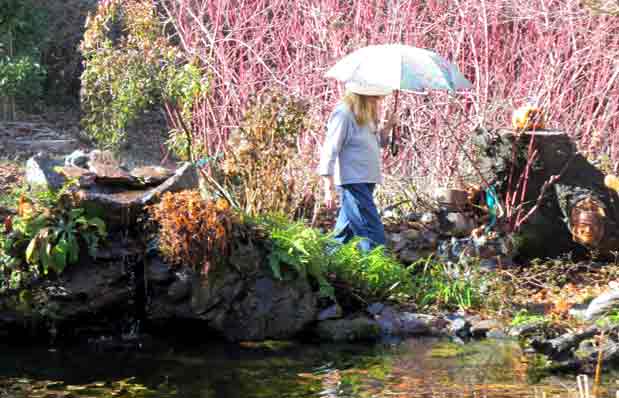 March:

The Northern Flicker preferred the pond edge while the Lesser Goldfinch, the Anna's Hummingbird and the Cedar Waxwings preferred the waterfall.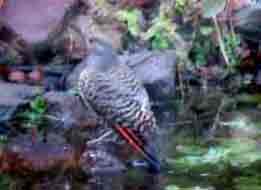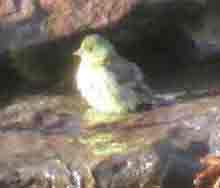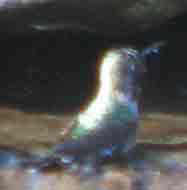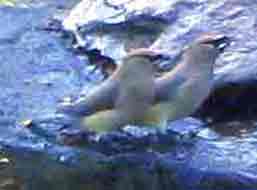 The end of winter here was quite warm but still without significant rain. We were gratified though to see the pondside plants come into bloom; the pond plants themselves reappear above the water with their new growth, and the return of the dragonflies.
Below: Creeping Phlox, a California Darner female ovipositing and the 59th bird species to visit the pond - a Chipping Sparrow!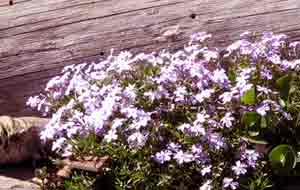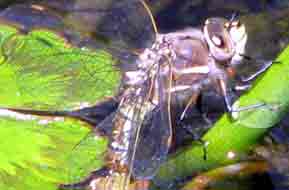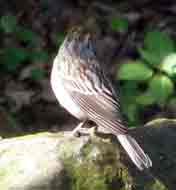 ---
Spring 2014 (click any image to enlarge)

The first day of Spring - the plants are growing - it is so serene!
And the Cardinal Meadowhawks began to emerge (click on the image to see the series of images showing emergence).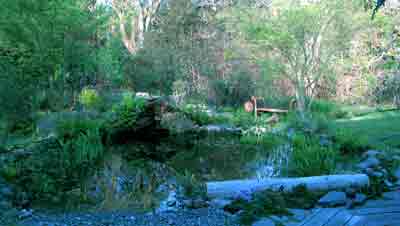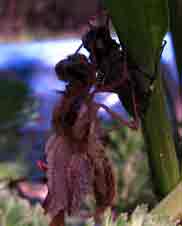 Over the years, it's become quite apparent that the dragonflies prefer to emerge in heavily planted areas of the pond.
This also provides the sub straight for the nymph to climb about it.
Many people don't realize that dragonflies actually live the majority of their lives underwater, usually for a whole year, before emerging as flying insects.
When they emerge from the water and become flying insects, the metamorphosis is awesome to behold.
This Spring, several of them chose rainy days, some survived; some didn't.
Here are images of the pond, and an emerging California Darner and emerging Cardinal Meadowhawks.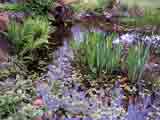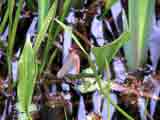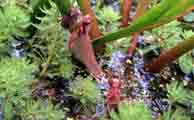 Spring 2014 (click any image to see it enlarged &/or in an expanded view)

Those of you who have been following our pond's growth and development/redevelopment may remember when the 50-yr-old Black Oak fell into the pond. Do we miss it? Surprisingly, not really!! The openness now seems so bright and cheerful, and the pond is so much healthier. Of course some of that is we put in a REAL EPDM pond liner, where before it was our old vinyl swimming pool liner, which had become old and brittle and may have been putting off unhealthy off gasses. But, a bit of the old tree remains and is putting out some new growth. We covered the ugly sawed-off main branch with a pottery piece of art a friend made. We planted Bleeding Hearts under it, to signify our friendship and it looks great, as you can see by clicking on this link: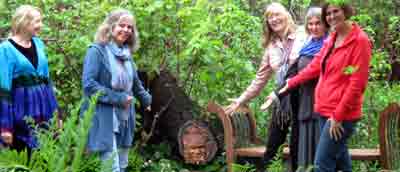 April:

No foolin', on April 1st some much needed rain arrived. The pond looks so pretty as the raindrops dimple its surface: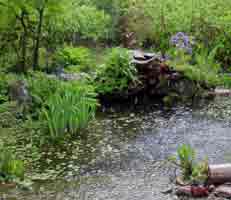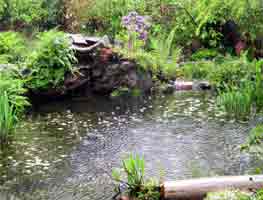 We are enjoying our pond so much! I put a set of images up on Flickr titled "A Wonderful Day in Our Own Backyard"!
Chick on this image to be taken to that set, then use your back button to return here.
=!=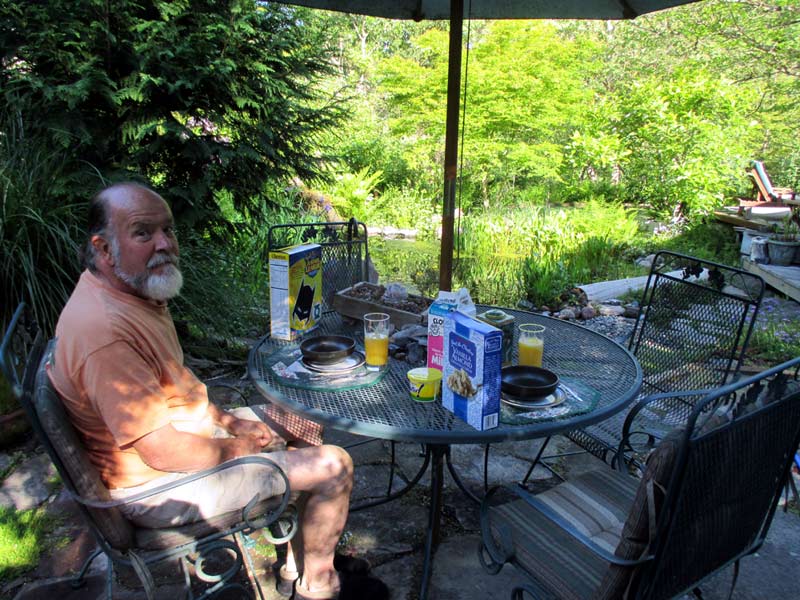 ---
May (click any image to see it enlarged &/or in an expanded view)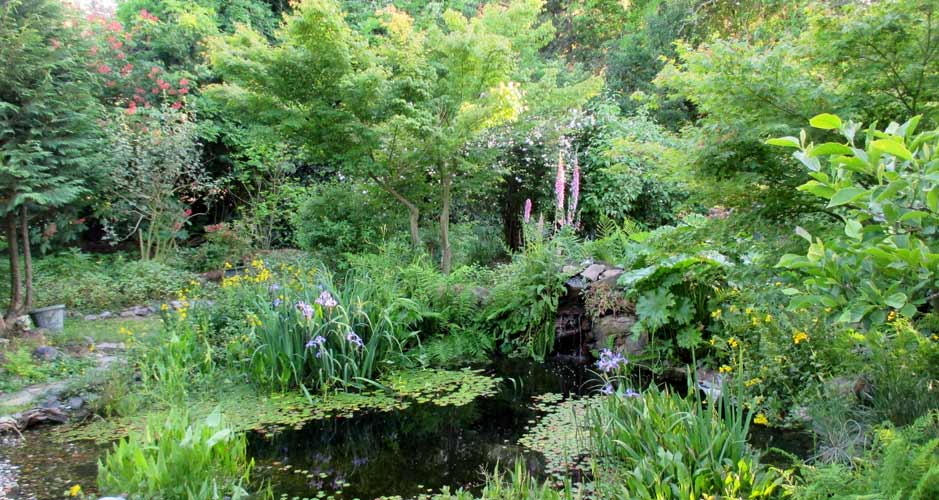 Sometimes it just seems incredible that I could have created something so lovely! The Blue Flag Iris is going strong and unbelievably, we are eating most of our breakfasts outside. Usually Sebastopol has cold, foggy mornings, so this is unusual.
=!=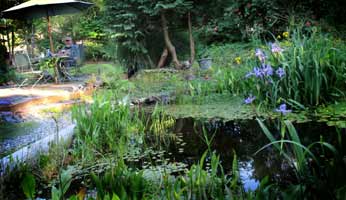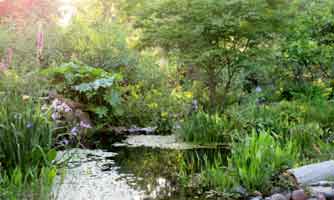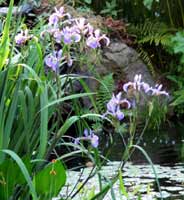 =!=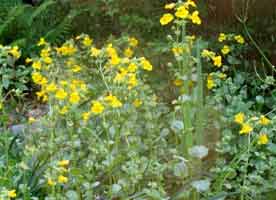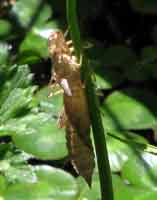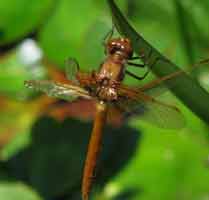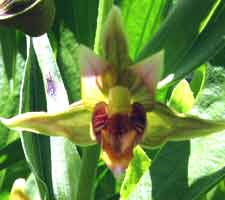 The Seep Monekyflower in the bog is blooming like crazy - a riot of color. I've just allowed it to grow wherever and however it wants. The premise being that it will grow where it wants to be. I have to 'give up ownership' of the pond and become its steward instead. I've been doing this for 19 years now, and I'm being richly rewarded!
Not only is the pond looking great, it is functioning great! The dragonflies are emerging by the dozens and every morning when I go out, I find the exuviae left behind by emerging darners (darners usually emerge during the night and then fly off at dawn). Below are two that emerged on the exact same plant stalk, but luckily, not at the same time!! My heavily planted pond provides the necessary substrait for dragonfly nymph to emerge from, besides hunt from. Most dragonflies spend at least a year as a nymph before they emerge and fly.
But, even a good steward isn't always sucessful.....sometimes a dragonfly tries to emerge and gets knocked into the pond. When this happens, its wings become damaged, and even if it is able to climb back out of the water, it is doomed. It becomes part of the food cycle a little earlier than hoped for!
But I'd rather talk about sucesses!! Such is the case with the Stream Orchid given to me by my friend, Nancy Bauer, author of The California Wildlife Habitat Garden: How to Attract Bees, Butterflies, Birds, and Other Animals. I had tried the Stream Orchid in several other spots in the pond, only to have it barely stay alive. Finally I 'got smart' and thought about where I'd seen it in nature....in the sun, but sunlight partly diffused by taller plants. I mimiced that by putting it in the 'planting pocket' I'd created by the beach, and look how happy it is now!! Yay!!
=!=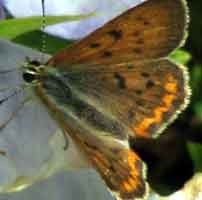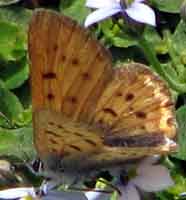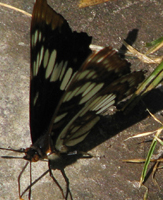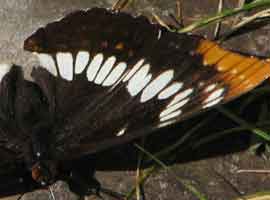 One day I looked out and saw a butterfly that looked different from any I'd seen in the pond's prior 18 years. I rushed out with the camera, and snapped some pictures as it nectared on the Creeping Phlox and other nearby plants. I had to have Nancy Bauer help me with the ID, but it is a Purplish Copper, butterfly species #27 for the pond! Another butterfly that visited this month was the Lorquin's Admiral (seen May-July most years). I always have to look closely as the California Sister is very similar, having a dark outline around the orange.
=!=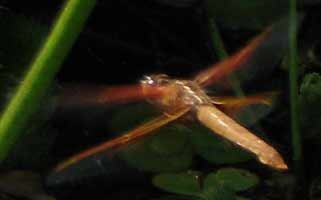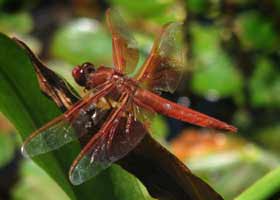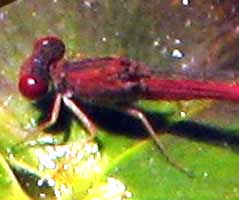 A picture I got that I'm pretty proud of is this female Flame Skimmer ovipositing in the pond. You can see the flanges on the side of her abdomen that she uses to splash her eggs onto nearby vegetation. Getting a photo of a moving Ode is always a challenge! Next to her is an image of the male Flame Skimmer. Male dragonflies are almost always more colorful than the females, much the same as in the bird world.
We also were excited to find a species of damselfly on the pond that hadn't been seen there in over 8 yrs. He is red like the Flame Skimmer but much much smaller. This damselfly species is called the Desert Firetail, although our pond certainly isn't a desert!!
=!=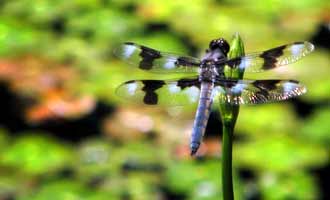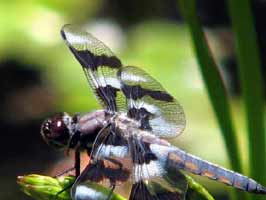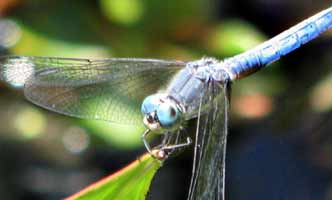 Another dragonfly that came in to (or emerged from?) our pond is the Eight-spotted Skimmer. He's a gorgeous fellow with both black and white spots on his wings. He's named for the # of black spots, 2 per wing = 8. Click on his image to see a zoomed in view of him.
The Eight-spotted Skimmer is one of several dragonflies that develop pruinosity on thier abdomens. This is a wax-like substance and it obscures the markings that show when they are immature. The 8-spot in these photos hasn't yet developed enuf pruinosity to totally obscure the pale spots along the sides of his abdomen.
Another dragonfly that develops pruinosity is the Blue Dasher.....and I swear, he always looks 'cute'!!
=!=

We were lucky to have a female Eight-spotted Skimmer come in to oviposit, so hopefully next year we'll have them emergeing form the pond - it HAS happened only once before, as far as we know.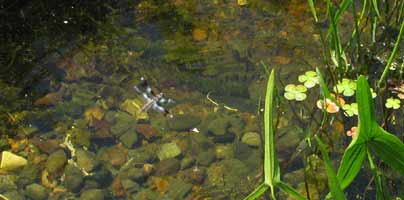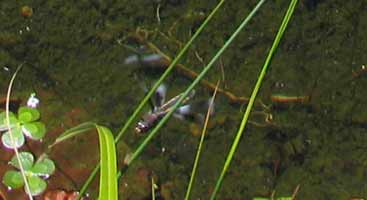 =!=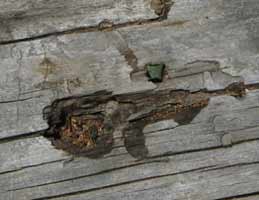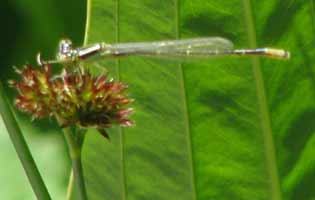 For years now, we've found our Spirea plant's leaves with little semi-circular holes cut in them. We knew it was a species of solitary bee that did this, but this year was the first time we ever saw where they were nesting... Well, it is IN the hole in the log that we placed as pond edging! Sorry, I was too slow to get the bee, only the hole shows. It just feels wonderful to know that we've provided a home for yet another animal species by creating this pond!!
Next to the hole-in-the-log image is a Western Forktail male, a species of damselfly that I feel sorry for, you see, David Herlocker, the Marin County Naturalist did his thesis on this species, and determined that the females only mate once in their life! So this male may not be feeling 'lucky'!!
=!=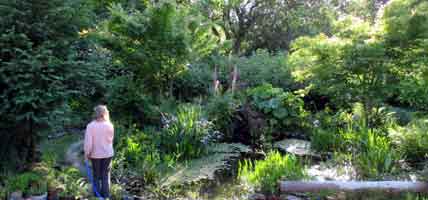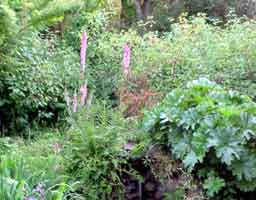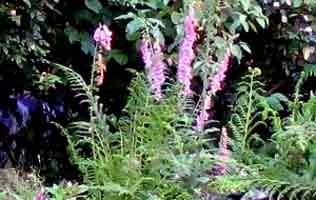 Some of my greatest joy comes for caring for our pond. Sometimes folks ask me, How much time do you spend working on the pond? and truthfully, I can't answer them as it is not work to me, it is pleasure. The Blue Flag bloomed all month, standing next to such a gorgeous display while watering could NEVER be considered work!! Why even the Foxglove got into the beauty scene and bloomed the whole month right next to the waterfall! I didn't plant it there, the Foxglove seeded itself there. I like that - it means that plant is growning right where it wants to be.
=!=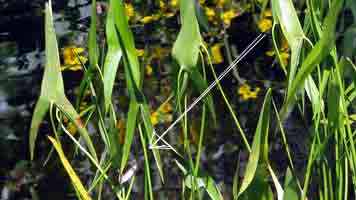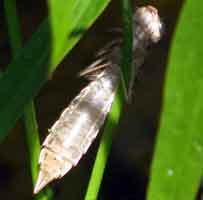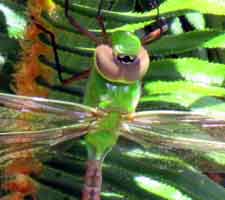 There was a bit of excitement mid-month at the pond - we started finding Common Green Darner exuviae (the shed exoskeletons). The photos above show one in situ. Finding the exuvia means that a species has sucessfully bred in the pond. Finally on the 22nd, late in the afternoon, I accidently flushed one. It flew to a nearby fern and its image is above. This is the largest dragonfly we can expect to have emerge from the pond. You might notice the 'milky' look to the eyes. They are still soft as it has just emerged. At this time in its life, the dragonfly is known as a teneral. You can think of that word as meaning tender, as it is. If you touched its eye when it is this young, it would permanently ruin it.
=!=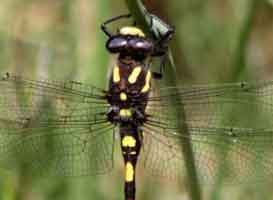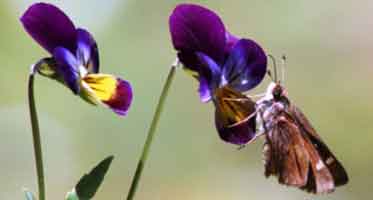 One of our joys is sharing the pond with others, not only here on the Web, but in person too! Our friend David Hoffmann came by on the very morning of the day the Green Darner emerged! He missed seeing that, but he did get to watch a young male Pacific Spiketail flying about the yard and he took this great image of it, and another image of a Skipper Butterfly on our violets near the pond.
=!=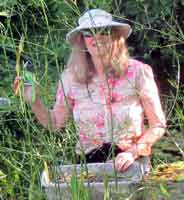 I alluded to it before, but sometimes one does have to get IN the pond. Growth of water plants can be quite exuberant, and it needs thinning. So, on hot hot days, I LOVE going into the pond to 'weed'! I put on tight 'bicycle' type pants (so no critters can get inside my clothing) and walk right on in!! While everyone else is complaining about the heat, I'm nice and cool!! I float a tub with my clippers in it, and keep a net handy nearby. I cut off growth that is heading where I don't want it to go, or I 'deadhead' - taking off dying material to keep the pond looking fresh. I probably spend about an hour or two a month this way, WHEN I am home. ....each summer,for several months, we get a house sitter and head to our McCloud home and pond.
=!=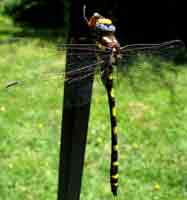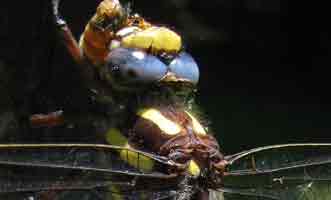 Maybe I should just call this part of the 'blog' - Beautiful Blue Eyes!! Towards the end of the month, a male Black Spreadwing started showing up. Spreadwings are a family of damselflies who, like the name implies, spread their wings when at rest. They have gorgeous blue eyes, and this guy was sorta playing peek-a-boo with the camera and I.
Another species whose eyes also are a beautiful blue at maturity is the Spiketail. When David Hofmann took his image, the Spiketail was just starting to mature, now, at the end of the month, he is fully mature. This species specializes on eating wasps, bees and hornets! That is so interesting as many of its prey species are also black and yellow. This one is eating a Yellow-jacket Wasp... I appreciate that!
---
June (click on any image to expand it)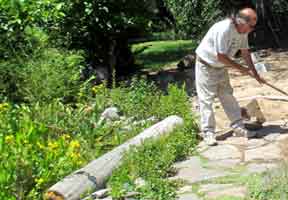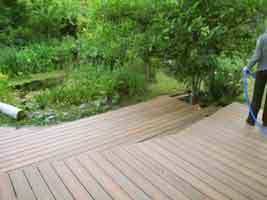 On June 1, we had no deck at all next to the pond as our big project this summer is to rebuild it. At 35 years old, it was falling apart.
The deck predates the pond and has been a bit awkward around it. The new design will highlight the pond as the pond really is the focal point of our yard.
By the 10th, the reconfigured deck, with a special pond-viewing section, was framed.
The photo on the right, taken on the 20th shows the new, step-down level of the deck that faces the pond.
=!=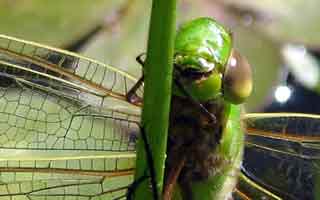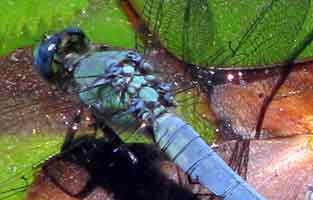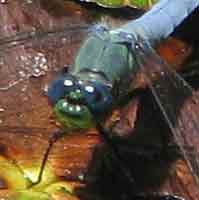 But the construction adjacent to the pond didn't slow down the critters one bit!
Common Green Darners, the largest species of dragonfly we can expect to complete its life cycle in our pond, continued to emerge. The one above has just come out and has yet to take its maiden flight.
Making its 2014 summer debut was this young male Western Pondhawk.
He was still showing some of the green coloration he sported when he first emerged.
He'll turn all pruinose blue, except for his face at maturity.
His green face is the best way to tell this species from the very similar Blue Dasher, which has a white face, although it's greenish eyes can fool you!
=!=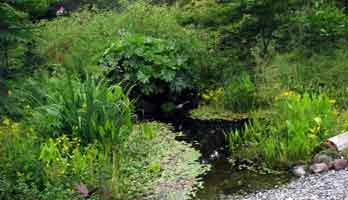 The color yellow became dominant as the Seep Monkeyflower came into bloom.
=!=
---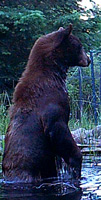 July & August

There are no pictures from July or August as we were at our McCloud home from June 24 - September 11,
enjoying our pond there and all the wildlife it attracts.
This wildlife includes deer,
bobcats and
Mickey the Mantled bear!!
See Our Mt. Shasta Forest pond, Northeast of McCloud, 2014.

=!=
---
September & November (click on any image to enlarge it)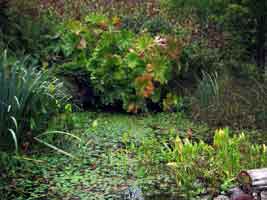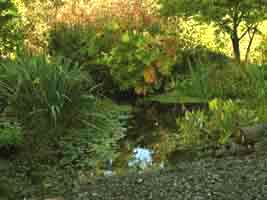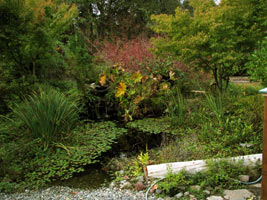 Folks always ask me how much "work" caring for a pond entails.
Well, the first image shows what our pond looked like after 14 WEEKS of absolutely no care!
We'd been gone that long, living at our McCloud home with its pond. Our Sebastopol pond was a bit overgrown,
and so I spent about 2 hrs IN the pond, thinning out overgrowth and cleaning the pump on Sept. 22, a lovely sunny 82F day.
It was work, but enjoyable work! Then on the 24th, I put in another 2 hrs IN the pond.
I'd also put in 1 hr. on the 23rd, thinning plants from outside the pond. So, having put in 5 hrs, but only 5 hrs in 14 weeks, well, that averages out to only ~ 20 mins. a week!
The photo in the middle shows the pond after it received the 5 hrs of care.
I've added a third image, taken on November 1st showing the pond that day.
I've pulled out a few of the dead plants that die off in the Fall from the front edge of the pond, but, again, no other work done.
I always hope that the Indian Rhubarb (large leaves in back by the waterfall) will last until they change color....here they are just starting.
No photos were taken in October....we spent most of that month up north with our McCloud pond!!

=!=
---
December (click on any image to enlarge it)

The only pictures taken around the pond in the busy month of December, were those taken by our "trailcam" -
it was always like a treasure hunt to take the card out of the camera and find out what was going on while we were sleeping.....here's what:


aka "Late at night while you're sleeping..."
But not everything was "scarey" or photographed at night - This Varied Thrush, a cousin of the Robin, was quite sweet!




End of 2014 - another very good year!
---


Let me know about your wildlife pond experiences! email