Our Mt. Shasta Forest pond, southeast of McCloud, 2012
---
This is how the pond looked when we first saw it on January 17th
(Click on all images to enlarge them).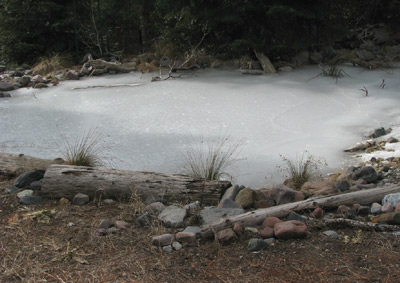 Not much snow this year - yet!
But then 2 days later the snows started in earnest as we had to hightail it home and didn't get back up until May.
---
So, the next time we saw the pond was May 7. It was mostly thawed (a little ice on the bog) but was taking a heavy hit on pollen:
(Click on images to enlarge them)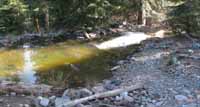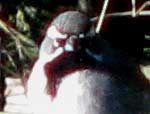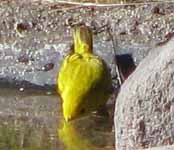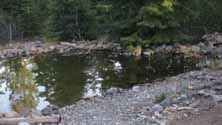 But, immediately the frogs were chorusing, our species #14 of butterfly - an Echo Blue - appeared (see above) and the birds began arriving, including bird species #53 - the Black-throated Sparrow you see above...he was just passing thru on Spring migration however!
One of our favorite birds was also an early returner - the Yellow Warbler. And by the 8th, the pond was thawed.



But by the 14th, the scourge of the pond was back....who is this 'devil' - well, none other than the Brown-headed Cowbird. You see, Cowbirds, like this female lay their eggs in other bird's nest, particulary the warblers that we love so much. Plus, folks put birdfeed out and thereby feed the cowbirds, thus encouraging them, while Warblers eat only insects.... thereby providing us a service, besides being so pretty! Click on the female's image to be taken to a set of photos of them. We had one male and six females forming a group this year :-(


To balance the good with the bad, that's the same day that a Grouse hen walked up the driveway just ahead of Dave. Click on her thumbnail to see several images of her! Her mate 'booms' up in the trees all Spring.
---
June (click on images to enlarge)

The pond was back to life when we arrived in early June. The bright green floating masses are duck weed that we brought up from our Sebastopol pond to help form shade for this pond.




This is the first year we've had Bog Bean or Marsh Marigold or Wide Leaf Water Plantain in the pond. - They all have lovely flowers!
The birds that the pond attracts are always so lovely: Yellow Warbler, Chipping Sparrow, Western Bluebird, Evening Grosbeak, Band-tailed Pigeon, Western Tanager, Yellow-rumped Warbler, Mourning Dove, MacGilvary Warbler, and loathsome Brown Cowbird (why loathsome? Click here)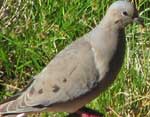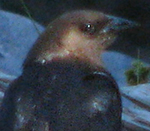 and the polliwogs were abundant!

The dragonflies amazed us! New to the pond was the Common Whitetail, a gorgeous white and black species!
And the "king" of the pond returned, the Twelve-spotted Skimmer and the lovely male Cardinal Meadowhawk

The water striders were mating and Bumble Bees came out!

A pale Swallowtail came in again and again for puddling.
---
Please check back soon for further developments! I'm adding photos as I find time....