Bigsnest Wildlife Pond - Year 2000
| | |
| --- | --- |
| > | This picture was taken in mid-April, 2000. The 5-finger ferns around the waterfall have finally recovered from the freeze on '98! |
Click here to see two of my ESL students sketching by the pond during a field trip in March.
Clicking here will bring up the some fantastic pictures of the pond taken by Nancy Bauer for potential use in her gardening column in the Pacific Sun newspaper. Her column featured our pond in October 2000. I hope to add the article at a later date to this site.
Click on this thumbnail to see the pond in early November.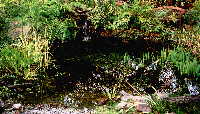 It is 'under the net' at this time of year. The net is needed to catch the Oak leaves.