Our Mt. Shasta Forest Pond, McCloud, Siskiyou County, CA - 2015
Kathy's Dragonfly Roost Pond Diary
---
---

We have a summer home on the sides of Mt. Shasta in far northern California. It is at ~4750' elevation in the midst of a pine and fir forest with no other water around for miles and miles, except in one direction where there is water about a mile away. The pond has proved to be a real mecca for the fauna, and that was our intent - to make up for the habitat lost when we built our home. And we wouldn't dream of having a home without a wildlife pond!! This pond is TOTALLY OFF THE GRID....we usually spend the summer, and one week out of all the other months there, so this pond has to be totally able to survive on its own for the most part.
The background image shows Mt. Shasta as seen from the pond....the summit is only 8 miles away, as the dragonfly flies!!
We weren't able to visit during January, February or March.
---
April (click any small image to see it in an expanded view)

A friend checked on our place the first week in April and the firs timage of the pond that they sent showed that it was already starting to thaw. When we arrived the next week, the thaw was already in progress and the Pacific Chorus frogs were aleady 'singing'!!...brrrrr.....They like to 'hide' under such things as our log edging and this seems to amplify their chorus.
The Thawing of the Pond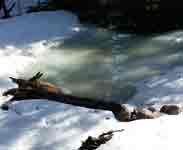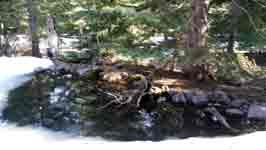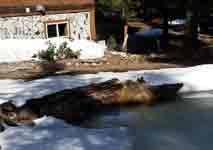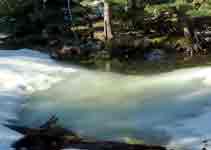 ---
Trail Cam Images

One of the first things we always do upon arrival is check the 'spy/trail' cam to see what critters have been visiting while we were gone. And we did get some intriguing images!! Could the first one show a bobcat???? It's so ephemeral....we can't be sure. It can be seen(?) mid top of the image, between the sticks and the tree stump with the 'bird hole' in it. Is it a bobcat or is it a mirage?? I have seen a bobcat at the pond once, a year ago, and another time in the road, many years ago... Would love your opinion! email us!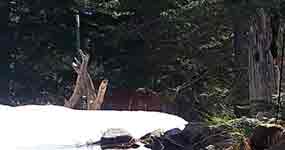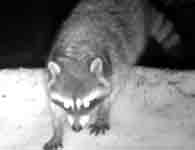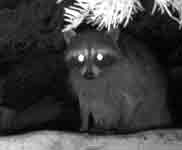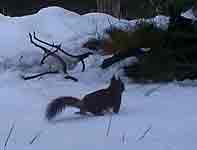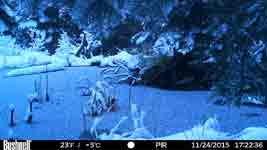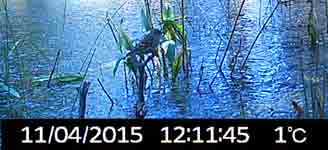 The next image leaves no confusion! A raccoon visited. There are two images, then, going backwards in time, we see a Chicory/Douglas Squirrel, a pretty snow scene, a small bird braving cold temperatures and then a visit by our resident lady grouse (this taken in the fall, but we hadn't been back to visit since before this date).

---
---
Return to Bigsnest Pond 2016